A silk rug can add elegance and style to your home, but only when it's clean and vibrant. Even though a grubby or soiled silk rug might be an eyesore, we don't recommend you attempt to clean your valuable silk rug at home. Bedrosian can restore the beauty and luster of your rug.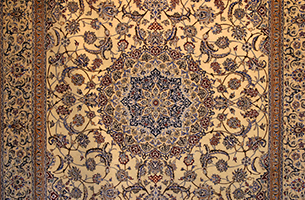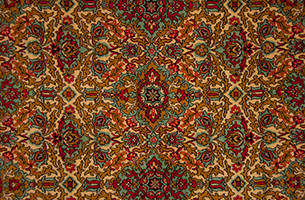 Silk rug cleaning services
Chemical solution cleaning methods and dry-washing with foam are contraindicated for the silk rugs. The residues from these cleaning methods will be absorbed by the silk fibers and the structure of the warp causing them to dry. We at Bedrosian Rug know that silk rug cleaning is a delicate process that implies in depth knowledge of:
The carpet's origin
The silk fiber's quality
The dyes used in the manufacturing process
One important reason why you should choose our experienced team for cleaning your silk rug is the dry soil procedure performed prior to the actual washing. Dust particles that are lodged between the silk fibers will lead to foundation damage in the future. Take note that most services that offer on-site surface washing do not include this service.  Bedrosian provides the silk rug cleaning and repair services for the following problems:
Mildew stain and odor
Pet urine stain and odor
Dye bleed
Color run
Foundation weakness caused by moisture
Organic and non-organic stains
What does a professional silk rug cleaning imply?
Granted, spot cleaning your silk rug with a cleaning solution occasionally is part of the maintenance process. However, these cleaning solutions are ineffective against deep dirt, pet stains and odor. Furthermore, these products may contain harsh chemicals that can damage the fibers.
We at Bedrosian guarantee to give your silk carpet a deep and green safe cleaning, without affecting the complete safety of the rug. Our silk rug cleaning process entails:
A minute examination of the carpet to determine type, origin, fiber content and condition
Older rugs will undergo a pre-cleaning security process, meaning that we will restore loose ends, weak areas and frayed spots as well as repair holes
We vacuum your rug with advanced equipment to remove dust and debris; the deep dusting process ensured by our gear is vastly superior to the regular vacuuming you perform at home
We inspect the silk rug more carefully to identify stains and determine the appropriate cleaning technique for them
Apply a pre-treatment for stain removal to protect the delicate silk fibers of your rug
After we treat all stains, we hand wash the rug with mild detergent
If you request it, we will deodorize the rug and ensure it smells fresh and new
Buying a silk rug is an investment that can be enjoyed for generations if properly maintained. If you're looking to add value and breathe new life into this timeless flooring covering, then Bedrosian is the right team for the job.