For four generations, Bedrosian companies have specialized in carpet and rug cleaning and services. Area Rug cleaning and restoration procedures are performed in our state of the art facility in New Jersey. Carpet, tile and upholstery cleaning services are preformed by our mobile cleaning crews using the best in environmentally friendly truck powered, hot water extraction systems.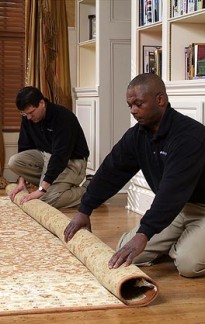 Our Area Rug Cleaning Process
We understand the importance of caring for your rugs and carpets. Regular cleaning and maintenance is vital to their longevity. Area Rugs, Oriental Rugs, Wool and Silk Rugs, Kilims and other area rugs should only be cleaned in a properly equipped rug washing facility. Factory controlled cleaning procedures insure a deeper more thorough cleaning result. Providing quality services that are environmentally safe are important to us.
"Thank you for considering our company for your carpet and rug service needs. Our staff is committed to providing customers with the highest quality cleaning experience possible."